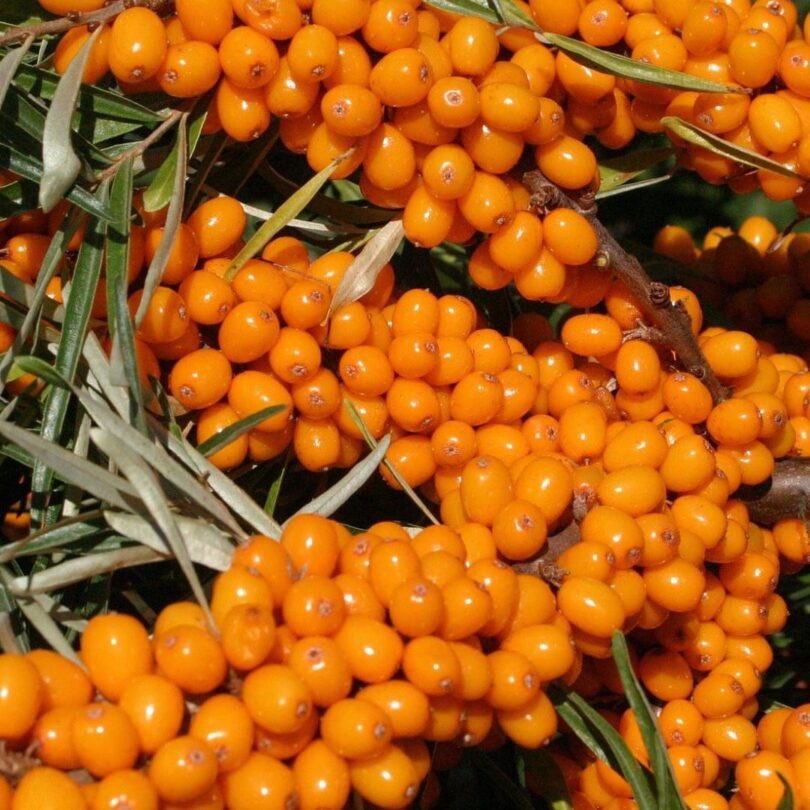 Despite its name, Sea Buckthorn Oil doesn't come from the ocean. Instead, this hard-to-obtain oil is extracted from the bright orange berries and seeds of a plant that grows in the mountainous and coastal areas of Europe and Asia.
Research shows that Sea Buckthorn Oil contains 106 known nutrients and bioactive substances and vitamins, which are highly beneficial for dry, irritated, rough and ageing skin.
Sea Buckthorn oil fights free radicals, rebuilds cells and delays cell ageing, supports wound healing, reduces scars, improves skin elasticity and structure, provides hydration of epidermis, limits excessive water loss, and has a regenerative and anti-ageing effect.
That's why we've included it in the specialized oil mix that forms the base of our entire Double Double Skin Range, which particularly targets dry, mature skin types.
Want more detail? Read on…
Sea buckthorn oil is uniquely rich in essential fatty acids, particularly Omega-7 and Omega-6, which promote faster skin regeneration and repair.
Sea buckthorn berries have high levels of antioxidants, which inhibit the ageing process. They have 15 times more Vitamin C than oranges and contain one of the highest levels of Vitamin E found in plants. They also contain a large number of other vitamins, including Vitamin A and Vitamin B complex, which support the blood supply to the skin, protect against harmful UVA and UVB radiation and evens out skin tone.
This amazing oil easily penetrates the epidermis and contains complex lipids such as phospholipids and glycolipids, which moisturize and soften the epidermis and improve skin elasticity; as well as sterols, which strengthen the skin barrier, increase firmness and help the skin to retain water.
You can find this super-oil in Double Double Face Cream, Double Double Face Balm and Double Double Corrective Serum.